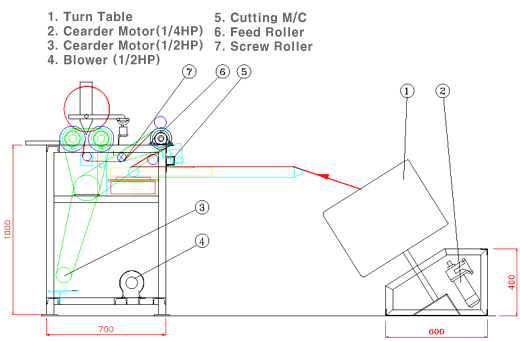 - Specially designed for bias cutting of the sewn tubula cloth and after cut, to wind bias cut cloth into a continuous bias roll.
- The roll of sewn tubular cloth places into the frame of automatic turning device which is drawn over by turning the adjustable mandrel to the machine for spirally bias cutting. (available in box or turn-buckle type)
- The machine feed the tubular cloth at a constant speed and it spirally cut on the bias automatically wound into a continuous bias rolls.
- Automatic roll turning device controlled at a synchronized speed same as the winding and spiral cutting, process works in synchronized speed.
- Mandrel width can be adjusted to obtain the adequate tension of tubular cloth while passing through the mandrel.

| | |
| --- | --- |
| | AC 3PHASE 1.5KW (INVERTER DRIVE) |
| | |
| | |
| | (L)2000 × (W)2000 × (H)1200 |